Welcome to Great Seasons Hotel, the premier destination for top-notch banquet and conference services in Kigali. Our distinguished hotel offers a range of meticulously designed event spaces tailored to elevate your conferences, meetings, seminars, and banquets.
Versatile Event Spaces
Discover a collection of versatile event spaces that cater to your specific needs. Whether you're planning an intimate corporate meeting or a grand banquet, Great Seasons Hotel has the perfect space for you. Our conference halls are equipped to accommodate various group sizes, ensuring comfort and functionality.
Cutting-edge Facilities
At Great Seasons Hotel, we prioritize excellence in hosting events. Our conference halls are equipped with cutting-edge audiovisual equipment, high-speed internet, and modern amenities to facilitate seamless presentations and productive discussions. Our commitment to technology ensures that your event runs smoothly from start to finish.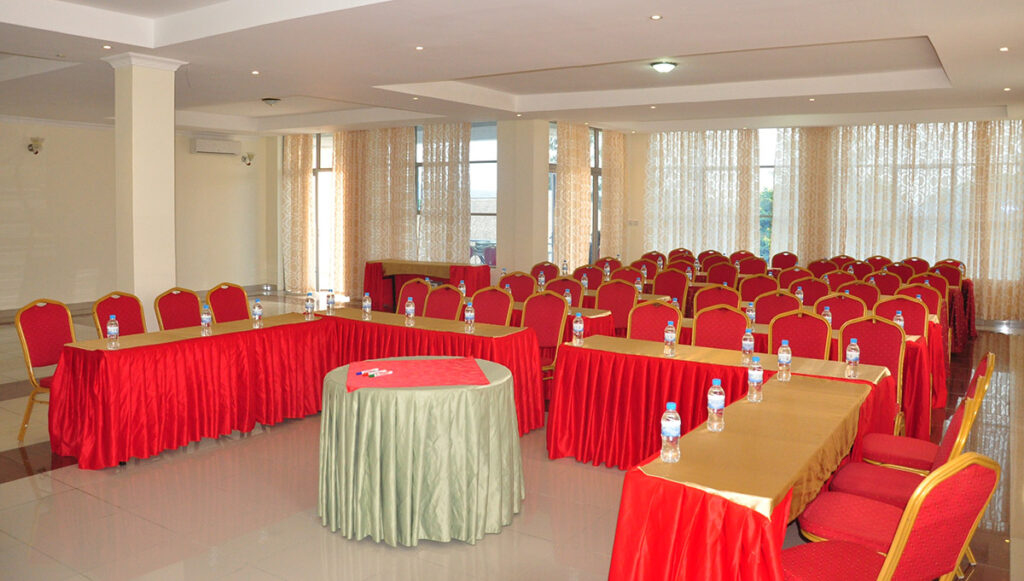 Tailored Setup and Layouts
We understand that each event has unique requirements. Our dedicated event planning team works closely with you to customize seating arrangements, layouts, and setups according to your preferences. From theater-style seating for conferences to banquet-style arrangements for celebratory occasions, we ensure your vision is executed flawlessly.
Culinary Excellence
Complement your event with culinary delights that tantalize the senses. Our skilled culinary team creates a diverse range of menus, from energizing coffee breaks to exquisite banquet dinners. Using only the finest ingredients, we craft dishes that cater to different tastes and dietary preferences, enhancing the overall event experience.
Customized Packages
Great Seasons Hotel offers customizable banquet and conference packages designed to accommodate your budget and requirements. Whether you're hosting a day-long seminar or a multi-day conference, we tailor our offerings to meet your specific needs, ensuring you get the most out of your event.
Accessible Location
Located strategically in Kigali City, Great Seasons Hotel offers easy accessibility for both local and international guests. With ample parking facilities your attendees will find convenience in attending your event at our prestigious venue.
Book Your Event
Elevate your conferences and banquets to new heights with Great Seasons Hotel's exceptional services in Kigali. Our banquet and conference facilities offer the perfect blend of functionality and sophistication, creating an ideal environment for productive discussions and memorable gatherings. Contact us today to book your event and experience excellence in every detail.
Experience excellence in event hosting with Great Seasons Hotel's banquet and conference services. Book now to create impactful and successful events!